Our Activities
Our project started in September 2020. We started by doing a literature search on the needs of first-generation students and by conducting focus groups with first-generation students from different bachelor programmes of the Faculty of Social and Behavioural Sciences. These focus groups were held with a diverse group of first-generation students. Out of these focus groups, a pattern emerged that these students at the beginning of their study struggled with their sense of belonging: most students indicated they were unsure about whether they truly belonged at university and said that they felt that other students seemed to find their way more easily at the university.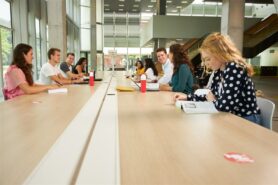 Students also indicated they had the feeling that other students had more knowledge about the university; they had the feeling that other students knew their way around the university more easily, knew better who to talk to in case of questions, and knew the vocabulary of university life better. Also, the first-generation students in the focus groups said that the information and new impressions that they came across in the first few weeks was overwhelming. The information that we gathered from the focus groups proved invaluable for the development of our support for first-generation students. We worked on three types of support for first-generation students.
 Mindset Intervention 
 First, we developed a mindset intervention. We designed an assignment for which students watched a short video of three first-generation students talking about their experiences at university. These students explained that at the beginning they were unsure about whether they belonged at university, but that through their experiences, their efforts, and the support offered by student mentors, tutors, and lecturers they overcame these initial difficulties. One of the students stated:'I found my choice of study quite difficult to make, because my parents didn't really have any experience with university studies, so I could not discuss it with them', similarly another students explained: 'I am the first one in my family to go to university and I feel I have to prove myself because of this and so I had to get high mark'. Students in the videos shared the positives that came from these difficulties: 'Not only teachers, but also the contact with the study association helped me a lot in the first weeks of university', 'I ended up feeling more at home at university because I started talking to people, doing more activities at university and therefore developing myself'. They also provided some encouragement and empathy: 'It's part of the job to have start-up problems', 'It's not a bad thing to doubt yourself, as long as you ultimately believe in yourself'.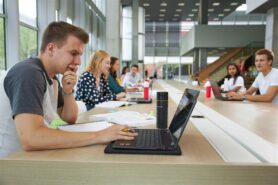 After watching this video, students were asked to write a short text about their expectations for their experience at university and they were stimulated to reflect on what difficulties they might encounter and how they could deal with these difficulties. This assignment was completed by prospective students of the bachelor Educational Sciences and students of the University Teacher Training Programme for Primary Education (ALPO). All enrolling students have to participate in so-called matching activities. Matching activities are aimed at helping students decide whether they think the program they chose is a good match for them. Attending the matching activities of a program is a prerequisite for being allowed to enroll in that particular bachelor program. All students attending the matching activities for the two bachelor programs were required to complete the mindset intervention assignment.
 Mentorship Porgramme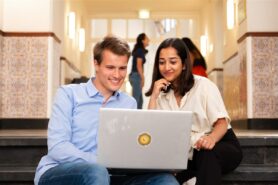 Second, we developed a short training session for student mentors. Both participating bachelor programs have student mentors that supervise a group of 10-12 students during the first semester of the first year. These students mentors are an important source of information for first-year students and organize activities that help students find their way at university. We developed a short training session to help student mentors become aware of the needs of first-generation students. Additionally, the training also provided student mentors with tips on how to help these students in the best way possible. The intention behind this was for students to have someone they could ask advice and information to in a way that is easier and more casual.
Leaflet
Thirdly, we designed an information leaflet for first-year students in the educational sciences programme and a different information leaflet for the University Teacher Training Programme for Primary Education students. Because the students in the focus groups indicated that the amount of information they received was overwhelming, we designed a leaflet that contains important information about the for example the university's IT systems, students' schedules, and the persons students can go to if they require additional help or support. This leaflet was handed out to students during the first weeks of their start at university.